Step 1: Mod Podge back of paper
Using a 1" paint brush, apply a thin coat of Mod Podge to the back of your scrapbook/cardstock paper. Immediately flip your paper and press it on to your wooden board, pressing/rubbing from the middle of the paper and working your way to the edge, ensuring you've pushed out all air bubbles.
Step 2: Mod Podge front of paper
Once your paper is adhered to your wooden board, immediately apply a thin coat of Mod Podge to the front of the paper using a paint brush.
Step 3: Cover with parchment
Next, take a sheet of parchment paper and cover the adhered paper.
Step 4: Stack books to release air bubbles
Then, stack several heavy books (or you can use bricks, blocks, whatever you have no hand that will add weight) in order to push out any air bubbles between your paper and wooden board.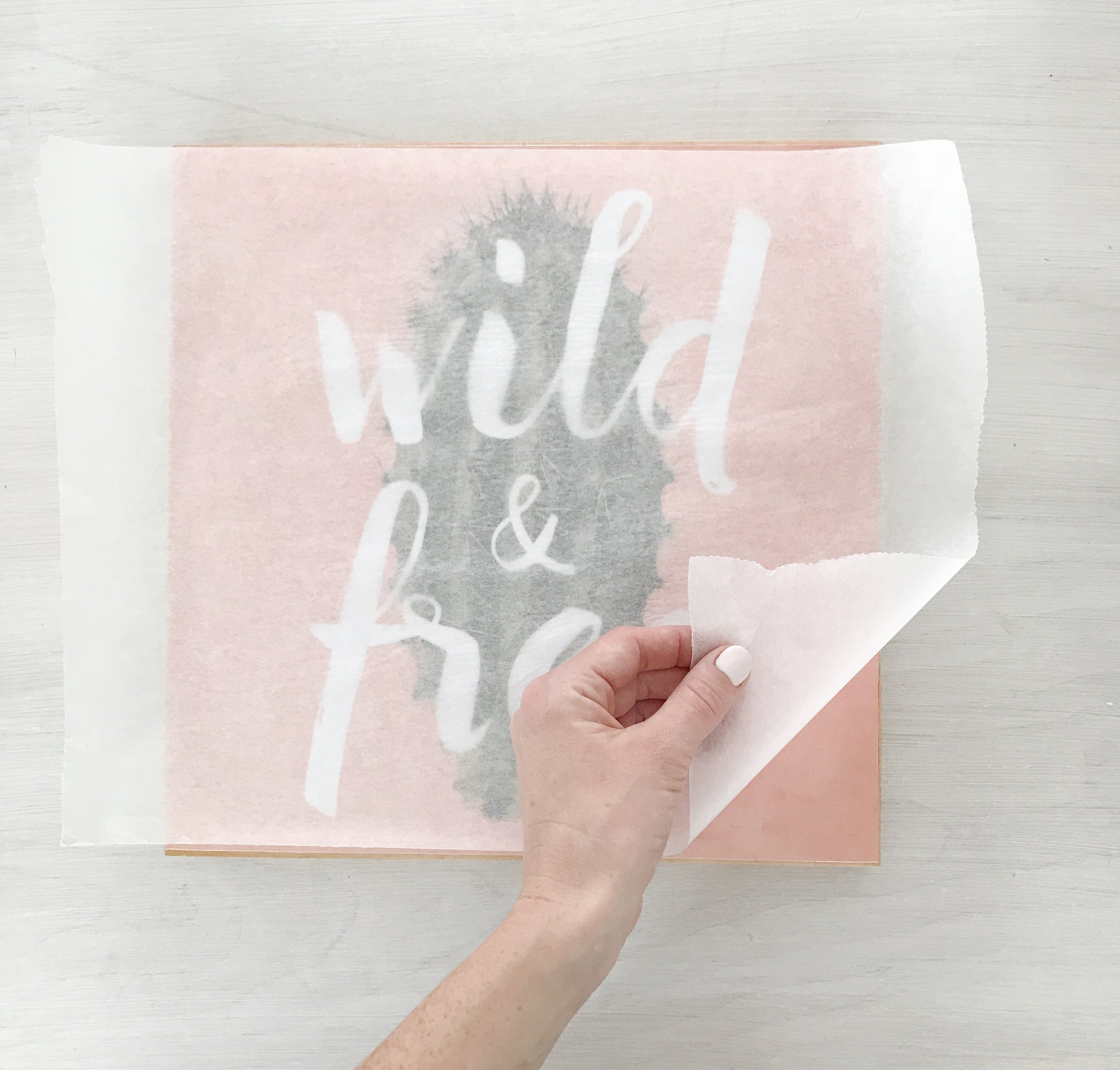 After the paper is completely dry, remove the sheet of parchment paper. This should take roughly 1-2 hours. I let mine dry overnight though because I wasn't in a huge hurry. I had a few tiny bubbles even after the Mod Podge dried but they were unnoticeable.
Step 6: Cut wire for hanging
Using a pair of wire cutters, snip off a piece of galvanized wire. I always use 18 gauge wire when hanging signs that I've made but you can choose any gauge you wish. If you'd rather not use wire, you may also use saw tooth picture hangers or D-rings. *Note: I usually eye up the length of wire I need for whatever it is that I'm hanging but if you want to be precise, simply measure the back of your wooden board (in my case, I used a 12" square board). Be sure to subtract an inch or two on each end (ex. if your board is 12", cut your wire at 10").
Once you have your piece of wire cut for hanging, simply staple it in place on the back of your wooden board.
I tried this project out as more of an experimental thing but I couldn't believe how cute it came out and how easy it was to do. I wish y'all could see it in person because the pictures really don't do it justice. I think for what I paid for the paper, the finished wall art looks like it could be something you'd find at Home Goods or Target. Another DIY for the win in my book!
PROJECT TOTAL: $1.25
*NOTE: Rob purchased a sheet of 3/4" furniture grade plywood for some other projects and orders I had. A sheet of that will run you roughly $40 but you would be able to get 24-12"x12" boards out of it which is how I was able to keep my cost so low on this project. The sheet of scrapbook paper was on Clearance at Michaels for about 75¢ and I just couldn't pass it up!